Few vessels from the glory days of the Steamboat Era are more iconic than the steam packet boat. Built to carry both freight and passengers, their impressive size, speed, and often decorative appearance made packet boats one of the most recognizable images from this time in history. Between 1834 and 1923, the Howard family built hundreds of these vessels for use on the inland rivers. Today's subject is one of the most famous packet boats ever built by the family: the City of Louisville.
Launched by the Howards at their Jeffersonville shipyard in 1894 (the same year the mansion our museum calls home was completed), the City of Louisville measured 301'x42.7'x7′ and was originally owned by the Louisville & Cincinnati Packet Co. She ran for more than twenty years on the Ohio River between the two cities. With 72 staterooms and room for 1,500 passengers, she was one of the largest and fastest boats of her day.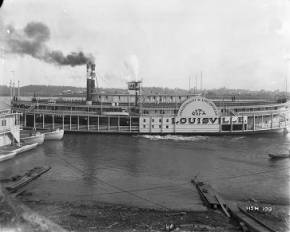 On April 18th, 1894, the City of Louisville made the upstream run from Louisville to Cincinnati in 9 hours 42 minutes, a speed record she holds to this day. Her speed was a point of pride for her owners, builders, and crew, and for many years a placard was carried on the pilothouse showing the numbers "9-42" to commemorate her first record-setting run. Two years later on April 5th, 1896, this remarkable boat set another record for speed when she made the downstream run from Cincinnati to Louisville in 5 hours 58 minutes, keeping an astonishing average speed of 22 miles per hour.
The City of Louisville's tremendous size and speed required the best steamboat pilots of the day to handle her. In the words of Capt. Ed Maurer, "When you had her hard rattling down around Sugar Creek Bend, she was a lot of lumber." This racehorse of a steamboat made her final trip on May 17th, 1917, heading from Louisville to Cincinnati where she was laid up. On Jan. 30th, 1918 the City of Louisville sank in a heavy ice flow, a common fate for steamboats of the time.
Sources:
Fishbaugh, Charles Preston. From Paddlewheels to Propellers. Indiana Historical Society: Indianapolis. 1970.
Way Jr., Frederick. Way's Packet Directory, 1848-1983. Ohio University: Athens. 1983.