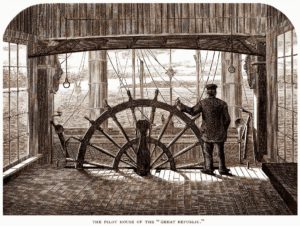 At the Howard Steamboat Museum we are interested in educating about the Howard Family, the steamboat era, and the time of the Victorians inside and outside the museum. Here are some great sites with information on steam engines and steamboat history.
This site developed by the United States Army Corps of Engineers discusses the effects and advancement that the steam engine brought about.
A great site for research and background on inland rivers steamboating. Here you will find a cache of photos, stories, and research materials on the American river steamboat.
The museum's photograph collection, which is housed in the University of Louisville Photographic Archives, consists primarily of images captured by Captain James E. Howard (1875-1956) between 1888 and 1934. His glass plate negatives showcase more than 300 completed vessels and document the construction of at least 200 boats built, or rebuilt, at Howard Shipyard. Captain Jim's negatives also include pictures of family members, the family mansion, extreme weather incidents in the Jeffersonville area, and boats built at other shipyards. After his death, additional prints, negatives and postcards, most by unknown photographers, were added to the collection.
Download the Coloring page below!