"The Clark County Historical Society/Howard Steamboat Museum, Inc. is a 501(c)3 non-profit organization dedicated to preserving the history of the famous three-generation steamboat building Howard family, their legacy, and the lore of the Great Steamboat Era."
Our History
The Howard Steamboat Museum was founded in 1958 by Loretta Howard, the wife of late Captain Jim Howard. It was Captain Howard's dying wish that the mansion become a museum. Loretta managed the museum until 1970, giving tours and training scores of docents on the history of the Howard Shipyards, the Howard Family, and the mansion itself. Today the Howard Steamboat Museum is a 501(c)(3) non-profit organization operated by a 24-person Board of Directors, a small staff, and several dedicated volunteers. The museum is proud to be a mostly self supporting organization which takes no regularly scheduled funding from any federal, state, or local entity. It is sustained by the generosity of our guests, members, fund raising events, and rentals of our repurposed historic Carriage House.
Travis Vasconcelos
Director & Curator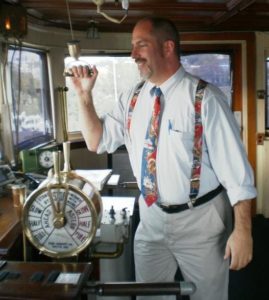 travis@howardsteamboatmuseum.org
(812) 283-3728
With a passion for steamboats since boyhood, Travis Vasconcelos has spent most of his life connected with river history. Travis has been a calliopist, narrator, and deckhand for the Belle of Louisville, where he is still a relief calliopist. He has also been a riverlorian for the Delta Queen, Mississippi Queen, and American Queen steamboats. Travis has a B.S. in Computer Science from Sullivan College (now Sullivan University). He began volunteering for the Howard Steamboat Museum and then served as administrative assistant for six years. Upon the retirement of long-time director Keith Norrington in 2020, Travis was appointed as the museum's director & curator. Given his lifelong experience with steamboats, he is a well-respected calliopist, river historian, and has been a consultant in those areas for people all over the United States and abroad.
Christian Thomas
Administrative Assistant & Weekend Manager
christian@howardsteamboatmuseum.org
(812) 283-3728
A native of Southern Indiana, Christian Thomas graduated from Floyd Central High School in 2013 and attended Indiana University Southeast where he studied history and political science. While there, he participated in several student organizations and served as Student Government Vice President from 2019-2020. Since starting at the Howard Steamboat Museum as an archival intern, Christian has become passionate about telling the story of the Howards and the history of the river. He especially enjoys researching and writing many of the historical blog posts on the museum's website and social media. In his free time, Christian plays trombone in local bands and orchestras and loves to read books about history